KR Run Club has launched!

This race report was originally published on KR Run Club on 4th November 2021! As well as early access to race reports, joining KR Run Club also gives you access to my weekly Training Updates, Workout Library and much more. For more information check out KR Run Club here. Alternatively contact me on email at run5kfasterwithme@gmail.com. Thank you for your support!

Kev
~~~~~~
Following my disappointing run in the first North East Harrier League (NEHL) fixture at Wrekenton in late September (race report here), where I'd almost pulled out on the second lap, I had two simple goals for my second outing in the 2021/22 season at Lambton Estate –
Run free and simple allowing my body and mind to guide me around the course;
Improve on my finish at Wrekenton and count for my club Tyne Bridge Harriers in the team competition
Looking at my results at Wrekenton, I was 102nd overall in a field of 509 and 17th in the V40 division (36th in the overall Veterans division).
This was very disappointing and someway down on my best ever NEHL result of 26th overall at Alnwick in March 2019.
I've always regarded myself as a competitive cross country runner but the fact of the matter was I hadn't run XC since that run out at Alnwick. I also hadn't done any training off road having been focused on the Great North Run and the recent Manchester Half.
A couple of factors were at play going into the race –
I was still running from Medium Pack which meant I gave 2 minutes 30 seconds to the majority of the field in the Slow Pack but I had a similar time advantage over the Fast Pack.
I had also never run the course before so I didn't really know what to expect.
Footwear choice would turn out to be crucial and the information was that the course was a mix of pavement, road, trail and mud. That ruled out spikes for me. Having thrown out my inov-8 mud claws a while back I actually had no other suitable options. In the end I decided to go with my Nike Pegasus 37s but more on that later.
In addition to this, I had decided to take 4 days complete rest from running prior to the race. As it was half term holidays I had a pre-planned break away. I packed the running gear and decided to just see how I felt. If I wanted to run I would. In the end I was happier just getting out for some nice walks in the Scottish borders. This served as a proper "down week" and the third in total since the Manchester Half.
There was quite a lot of rainfall on the morning of the race so it was expected to be a challenging day. For the men it was 3 full laps and approximately 6 miles or 10km in total. I didn't have chance to do a full recce of the course but it sounded like there were some tough hills, also described as "brutal".
There was a good group of Tyne Bridge club mates in the Medium pack and we wished each other well as we lined up. The Slow pack had set off and it was a case of trying to pick them off as fast as possible. It is one of the biggest challenges of cross country running for me, that feeling of just trying to keep on the best line. Unfortunately the most favourable line isn't always available given the sheer volume of runners out on the course. So you have to be prepared to bob and weave around and it's impossible to avoid the odd flying elbow! You have to be ultra aware of your footing and I have learned that "Garmin watching" is an absolute no-no.
I'd decided that I was going to set off very steady. As I said, I wanted to build on my poor performance at Wrekenton. I put a lot of that down to going off too hard, trying to run to Power. That was a big mistake. So I wanted a steady first lap, get a feel for the course and then build in laps 2 and 3. Sometimes you have to let others go off hard and have faith they will come back to you.
So I was not concerned about some Medium pack runners moving quickly away including some of my team mates. The start of the course was relatively straight forward apart from a sharp right hander around a tree with some roots sticking out which needed to be avoided. We were quickly onto a sweeping downhill road and the running trainers came into their own here. I made up quite a few places but then there was a quite unexpected sharp right hander onto a very muddy and slippy down hill section. This was my first realisation that my shoe choice was sub optimal. The goal quickly became "stay on my feet" as I saw at least two runners fall quite badly.
I simply couldn't let myself go on the downhills and had to really focus on my balance. Arms out in "aeroplane mode" helps with this. But the brakes really had to be applied as well. Another short, downhill which wasn't as dangerous was navigated and then we were onto a relatively nice stretch through woods and then back out into the open.
However, this was very much the calm before the storm prior to the first of the hard hills. The first was long and steep. Again my shoe choice meant that I wasn't able to get any traction. I had to shorten and quicken my steps to the point where I probably wasn't going much faster than a walk. Every lap was to get slower on this section as the legs and arms filled up with more and more lactic acid.
What goes up must come down however and luckily it was possible to recover from the hardest climb as we descended back down towards the next tough hill section. Again footing on the downhill was a real concern. I was still managing to pass Slow pack runners and the course was still quite congested as this was a two way passing point. Then came the second prolonged tough climb. It seemed to drag before another pavement section flattened out leading us back to the start of the second lap.
I was already starting to think: "is this definitely 3 laps?"
Rather than dwell on the negative I tried to brace myself for the second go at the steep muddy downhill section.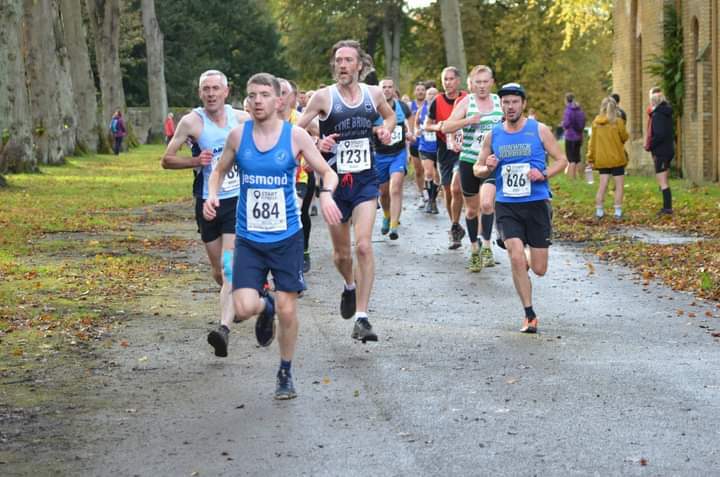 I definitely took it more conservatively this time, trying to avoid any camber that could cause the footing to slide away sideways – I saw another runner take a complete tumble. As tiredness increased the risk of falling increased, all adding to the general slow down.
I think it was around here that the first Fast pack runner caught me – Adrian Bailes of Birtley. I noticed how hard he was breathing. He definitely seemed to be working at a higher level than I was. I was moving into survival mode already. It wasn't that I'd set off too quick. I just didn't have the confidence to dig any deeper knowing that I still had over 1.5 laps to go with those hills. The lack of training on the off road and hill work was showing, made worse by the terrible shoe choice!
Still, I was making headway and I got the impression I was catching plenty of Slow pack runners and also some Medium pack runners who were now dropping back. So it was just a case of trying to keep moving forward positively and keeping any negative mental gremlins away.
Approaching the "brutal" hills for the second time is always tough, just the knowing that it wasn't the last time. You naturally want to hold something back.
I noticed a lot of men were starting to hunch over, walking with hands on knees. The moans and groans were getting louder. This was a proper test.
I definitely went up the hill slower than the first lap but, again, I was able to pick up quite nicely back down the hill. I was starting to get a picture of where I stood overall in the field towards the end of the second lap as I overheard someone shout in the crowd approximate positions. I had a definite sense I was in the top 100. This was encouraging.
As I noticed more Fast pack runners coming by at this stage I told myself the fundamental truth of North East Harrier League – the last lap is where it matters… A lot of places can be picked up, every second counts.
Your choice is either – dig in or capitulate.
It is critical to go with the former. Succumb to the pain and pressure and even finishing becomes questionable. At best you will tread water. Unfortunately I felt a little adrift in the middle…
I knew I was finishing – I had absolutely no reason not to. The only thing that could go wrong was falling over and not being able to get back up! I forced a few very heavy breaths on the final concrete descent to the dangerous muddy downhills, just trying to fill the lungs with oxygen.
I sensed that Tyne Bridge as a team were doing well. And I was very keen to play my part. I didn't have any clue whether I was a team counter or not.
I managed to successfully navigate the final treacherous descent. I noticed on the approach to the final hills that I wasn't travelling as well. I also noticed the first sign of a headwind. I wondered to myself where it had come from. Or maybe I was struggling so bad I was imagining it!
The last ascent of the first of the hills felt horrendous. It was barely a crawl and I really struggled to pick up around the tree switch back. Legs and arms full of lactic, hunched over and almost broken.
Gravity alone got me back down the hill. I went by men's club Captain Alisdair Blain (who started in Slow pack) who gave much needed encouragement – it made me think I might be in the 6 counters for the team. I also heard almost immediate encouragement for Paul Turnbull who had also been running from Medium. We formed an alliance from here on in.
We went by young Fraser Bigg who was having a great run from the Slow pack.
Joining us on the run in to the finish was super vet Richard Tailford who we came alongside just before the final climb. I was almost spent and I could tell Paul was gearing himself for a tough finish. We worked as a team and encouraged each other up the bank. "Come on, dig in" I said. It helped a lot having allies. I think we managed to take more places on that final hill.
Getting back onto the path I felt like I had something left in reserve, helped by my trainers whereas others were wearing spikes and trail shoes. I went by Paul who had dropped me slightly on the final bit of the climb. I shouted at him to pick up.
I was on the home straight, trying to muster whatever was left in the tank. A look round and I couldn't see anyone closing. A look round again and there was Paul launching a sprint finish. I was able to pick up and Paul let out either a laugh or a sigh! I finished 58th overall and Paul 59th. I was fifth counter for the team and Paul 6th. It was an excellent result for Tyne Bridge, finishing second in Division 1 on the day behind Birtley and moving us up into the top spot in the league halfway through the season and with another three fixtures to go.
On a personal level I hit all of my goals in terms of running free, improving on Wrekenton and counting for the club. However, looking at the results I am still some way off what I know I am capable of. I was 66th fastest on the day and 6th Vet 40. In terms of position against all other male veterans I was 13th.
And so I now start plotting for the 4th fixture at Aykley Heads on 27th November. I have 4 weeks to prepare and my goal is to significantly improve on a course I know well. The new cross country running shoes are ordered and my training switches off road to get the specificity I need to perform as I know I can. More about this in my upcoming training updates!
Thanks for reading!
Don't forget to check out KR Run Club here.